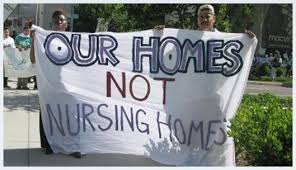 Access II can help provide Transition assistance to individuals who wish to move from an institution setting back into the community. We provide support through the Money Follows the Person (MFP) grant and Section Q. We want to help individuals return to their home and stay as independent as they want to be.
Who Qualifies for Money Follows the Person (MFP)?
Participants must meet the following criteria:
Have lived in a state habilitation center or nursing facility for a period of at least 90 days.
Be MO HealthNet eligible in the care facility for at least one month.
Transition to a house that is leased or owned by the participant or participant's family, or move to residential housing with no more than four individuals living in the house.
People who qualify will participate in the demonstration for a year. At the end of the demonstration period, they will continue to receive home and community services and supports through the regular MO HealthNet program as long as they continue to be eligible for those services.
Community Services
In addition to regular MO HealthNet services, participants could be eligible for some of the following home and community based services:
Behavioral, physical, occupational & speech therapy
Communication Skills Instruction
Counseling & Crisis Intervention
Environmental Adaptations
Individualized Supported Living
Residential and Day Habilitation
Medical Equipment and Supplies